Tosoh SGM Corporation's extensive product offerings and technologies have been honed over many years to meet the diverse needs of our customers. The silica glass that we manufacture is broadly divided into two types: fused silica glass and synthetic silica glass. Each of these types is further divided into detailed grades according to their purpose of use.
Synthetic Silica Glass
ES Series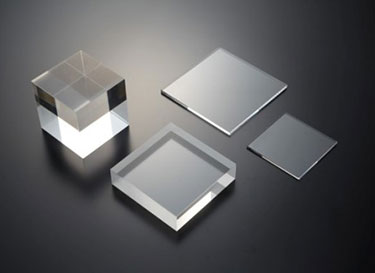 Silicon tetrachloride (SiCl4) is hydrolyzed and fused by using oxy-hydrogen flames.
This glass contains almost no impurities, bubbles, or foreign matter, and has superior light transmittance in a broad wavelength range from the vacuum ultraviolet regions to the infrared regions.
This type of glass also includes grades with higher homogeneity, excimer resistance, and other properties.
This glass is used for various transparent substrate materials including the mask substrate material used in the manufacture of liquid crystal panels, and for a wide range of applications such as excimer lasers, stepper lenses, and other types of lenses, prisms, mirrors, and aperture plates.
| Grade | Features |
| --- | --- |
| ES | Large-size material for general-purpose optical applications |
| ESL-1 | Striae-free in one direction |
| ESL-1000 | Striae-free in one direction, can be used with excimer lasers |
| ESL-2 | Striae-free in three directions |
| ESL-2000 | Striae-free in three directions, can be used with excimer lasers |
ED Series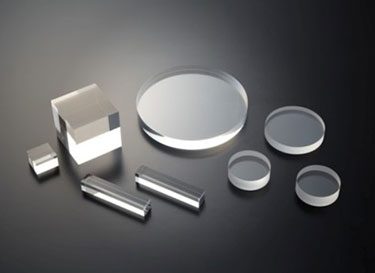 Manufactured from silicon tetrachloride (SiCl4) as the raw material using a VAD process. This synthetic silica glass, in which the hydroxyl group concentration has been controlled, can be made into two different types depending on the use of application: the hydrous ED-H or the anhydrous ED-C.
The ED-H type has extremely good light transmittance in the vacuum ultraviolet regions and is used for a wide variety of optical applications, such as lens material for lasers, mirrors, and window materials. Due to its excellent heat resistance, the ED-H type can also be used for furnace core tubes and jigs, etc., which are mainly used in semiconductor fabrication equipment that requires ultra-high purity.
The ED-C type has good light transmittance in the infrared and far infrared regions and is used in infrared-region applications such as lenses and windows.
| Grade | Features |
| --- | --- |
| ED-H | Hydrous grade that is striae-free in three directions |
| ED-C | Fully anhydrous grade (hydroxyl group concentration < 1 ppm) |